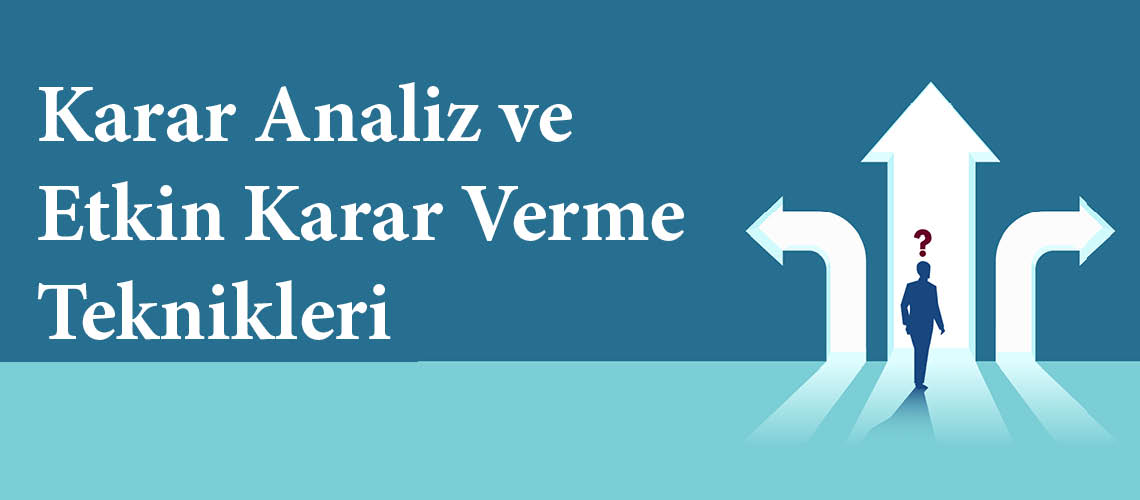 Eğitimin Amacı
Karar Analizi ve Etkin Karar Verme Teknikleri kursu, çalışanlara ve yöneticilere analitik düşünmeyi öğretmek, karar alma sürecini hızlandırmak, karşılaşılabilecek problemleri kalıcı olarak çözmek ve yönetimsel kararları doğru verebilmek amacıyla bir eğitim aracı olarak görülmektedir.
Kimler Katılabilir
* Orta ve Üst Düzey Yöneticiler,
* Yönetici Adayları,
* İş Analistleri,
* Proje Yöneticileri,
* Danışmanlar,
* İşi gereği farklı alternatifler arasından karar verme durumunda olan tüm profesyoneller.
Eğitim İçeriği

*Karar Analizi Nedir?

*Karar Vermek Neden Zordur?

*Karmaşıklık, Belirsizlik, Birden Fazla Hedef, Rekabet Halindeki Görüşler

*Neden Karar Analizi? Nerelerde kullanılır?

*Karar Problemleri Öğeleri

*Kararları Yapılandırma

*1. Adım: Karar Sürecinde Değer ve Hedeflerin Belirlenmesi

*2. Adım: İlgili Öğeler Mantıksal Çerçeveye Yerleştirmek

*3. Adım: Tüm Öğeleri Gözden Geçirmek ve Doğru Biçimde Yorumlamak

*Karar Ağacı Yöntemi ve Karar Ağaçlarını Yorumlamak

*Çift Risk İkilemi

*Duyarlılık Analizi Yöntemi

*Karar Verme Kriterleri ve Örnek Vakalar

*Çok Kriterli Karar Verme

*Belirsizlik Durumunda Karar Verme

*TOPSIS / İdeal Duruma Benzerlik Doğrultusunda Tercih Sıralaması Tekniği

Bu eğitim Campüs Online işbirliği ile düzenlenmektedir. Ayrıntılı bilgi ve kayıt için: https://www.campusonline.com/egitim/karar-analizi-ve-etkin-karar-verme-…

Eğitim tamamlandığında sertifikanız Yeditepe Üniversitesi Sürekli Eğitim Merkezi tarafından hazırlanacaktır.
Eğitmen

WORK EXPERIENCE

Uygulamaliverimadenciligi.com (02/16 - Now) Trainer, Consultant

Applied data mining training program via RapidMiner.

Clustering, classification, association rule mining, recommender systems, time series analysis on marketing, finance data

 

FORMETRE (02/16 - Now)

Co-Founder

Founded mHealth startup on wearable technologies.

Algorithm development for calorie calculation and MET.

Specified software requirements, system architecture and developed UI design for mobile application.

Managed vendor activities for mobile development.

Business development activities with various parties (Turkcell, fitness centers, dieticians, manufacturer).

Skills:

Business development, System Requirement Specification, Project Management, Vendor Management, Data Analysis (mining data from MySQL DB)

 

EMAKINA.TR, European Digital Agency (08/15 – 02/16) Director

Designed and implemented performance management system.

Improved recruitment process.

Recruited high profile managers and software developers.

Implemented emloyee engagement survey and directed follow up actions.

R&D grants application (TUBİTAK TEYDEB).

Initiated weekly employee training sessions.

Skills:

Performance Management, Recruiting, Organizational Management

 

AVANDEL, Salesforce Certified Partner (03/14 – 07/15) Director

Served as the Executive Director of R&D Center of Avandel, Salesforce Certified IT Consultancy Partner

Managed daily operations, software development and business development efforts.

Implemented QA & standardization to Agile Software Delivery process (daily scrums, sprint planning, sprint retrospective).

Project manager for Force.com implementation projects.

Acted as escalation manager for EMEA projects.

Built out both management layers as well as technical layers of delivery center by recruiting highly capable talent.

Skills:

Engagement management, enterprise cloud applications, project management, proposal writing, EVM, Agile SW development, business development, SW requirements analysis, Salesforce CRM.

 

VESTEL, Customer Services (10/13 – 03/14) Business Support Manager

Managed quality and process management functions in Customer Services Center.

Business development and project management for various decision support systems used in center.

Skills:

Project management, KPIs, business development, quality management, SW requirements analysis, SAP CRM.

 

VESTEL, R&D - Innovation Management (05/11 – 10/13)

Senior Researcher/Project Manager

Lead recommendation engine project for Vestel Smart TV that recommends multimedia content and TV programs depending on user profile.

Acted as project coordinator for various EU/government funded R&D projects (AppsGate, Global ITV). Proposal preperation and coordination activities.

Acted as coordinator for Vestel Technology Academy, a collaborative program with Özyeğin University aimed towards providing graduate education to Vestel engineers onsite. Taught Quantiative Decision Making, Data Mining and Innovation and Technology Management.

Skills:

Project management, innovation and technology management, business development, proposal management, SW requirements analysis, recommender systems, data mining, MS SQL Server, Perl, MS Office.

 

VESTEL, IT (09/09 – 05/11)

IT Specialist

Vendor selection and management for IT projects.

Requirement analysis, solution design and project management for SAP projects.

Skills:

Sourcing, project management, requirement analysis, negotiations, business development, SAP.

 

MOPROMO (07/08 – 09/09)

Co-Founder

Created the business idea and prepared the business plan for a company specialized in Bluetooth marketing, which enables companies to distribute advertising/promotional content (image, audio, video files) to bluetooth enabled mobile phones of customers.

Sourced the bluetooth server units from a Thailand based manufacturer.

Prepared governmental R&D funds applications (TEYDEB, KOSGEB).

Successfully implemented the network in Romania (50 different locations including McDonalds restaurants and bars in Bucharest) and launched Carlsberg EURO 2008 mobile advertising campaign.

Skills:

Project management, risk management, MS Project Server, MS Office.

 

AYESAŞ, PMO (05/04 – 07/08)

Project Management Specialist

Assisted technical project managers in project planning, control and performance management for 6 different C4I projects with CMMI Level 3 process maturity.

Skills:

Project management, risk management, Primavera, MS Office.

 

EDUCATION

MIDDLE EAST TECHNICAL UNIVERSITY, Informatics Institute               Ankara, Turkey

Ph.D., Information Systems, January 2011                                                      2004-2011

Research topics: Data mining techniques for massive data sets, algorithm development, decision support systems.

Skills:

Java, MySQL, RapidMiner, WEKA.

 

TEXAS A&M UNIVERSITY, Dwight Look College of Engineering           College Station, TX, U.S.A.

M.Eng., Industrial Engineering, May 2004                                                          2002-2004

Research topics: Advanced logistics, supply chain management, algorithm development.

Full scholarship awarded during graduate studies.

Skills:

C++, Matlab.

 

BİLKENT UNIVERSITY, Faculty of Engineering                                          Ankara, Turkey

B.S., Industrial Engineering, June 2002                                                              1998-2002

Full scholarship awarded during undergraduate studies.

Skills:

SPSS, Lindo, SIMAN.

 

AWARDS

Ranked 2

nd

in graduation in class of 1998 Izmir Ataturk Lisesi among 400 graduates.

Ranked 56

th

in university entrance exam in 1998 among 1.5 million.